Geraldine of the Albanians
Motto: "Duty and Love"

Her Majesty Queen Geraldine of the Albanians was born, Countess Geraldine Margit Virginia Olga Maria Apponyi de Nagy- Appony, on the 6th of August 1915 in Budapest. She became Queen Consort to His Majesty King Zog of the Albanians and then Queen Mother to His Majesty King Leka I. She passed away on the 22nd of October 2002, aged 87, at Albanian Military Hospital, Tirana.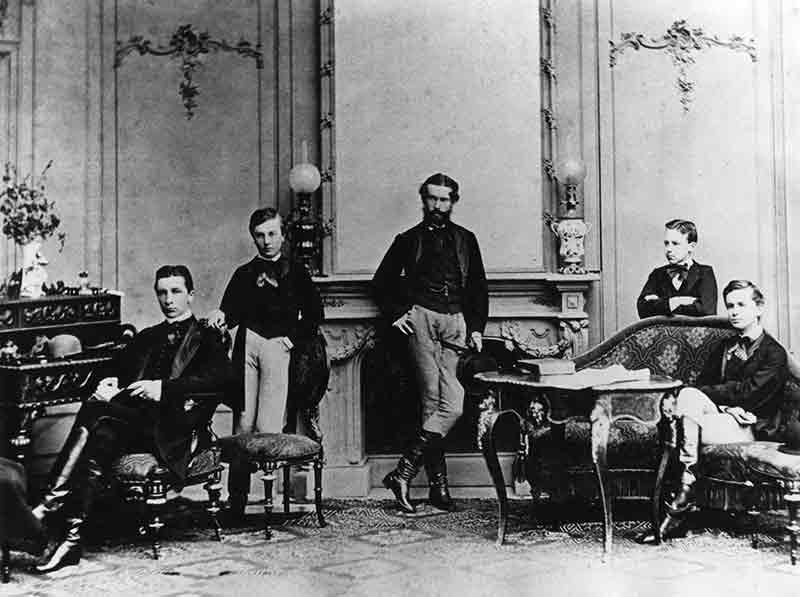 The Appony family dates back to the middle ages when Hungary was occupied by Arpadian in 894. The Appony family participated in the establishment of the Hungarian Monarchy under the Arpadian dynasty. The name Chevalier d'Appony first appears in the records of a very large estate, "Nagy Appony", which, until World War One, remained the property of the family. Today the estate is located within the borders of Slovakia in modern day Oponice. The 1920 Trianoni Treaty divided a large part of Hungarian territories, including the properties of the Appony family which were annexed.
All the forefathers of the Appony family had successful political careers, preserving high rank within the Austrian-Hungarian Empire.
Queen Geraldine's great uncle, Count Albert Appony, led the Hungarian delegation to the Peace Conference of Versailles and later represented Hungary at the League of Nations.
Queen Geraldine's paternal grandfather, Count Lajosh Appony, was personal adviser, Chamberlain and Grand Marshall of the Imperial Court of Franc Jozef. Her Grandmother, Countess Marguerite, was a Prussian Aristocrat and the daughter of Count Herman Roger de Seherr-ThoB, the decedent of Prince Ernest-Joakim d' Anhalt whose nickname was "Father of the Kings".
Queen Geraldine's American maternal-grandfather was John Henry Stewart. The Stewart family emigrated from Scotland to the United States and settled in the State of Maryland during the XVII century. In 1880, after a successful business career, John Stewart became a Diplomat and was named General Consol in Anvers. In 1890 he married Virginia Ramsey Harding, Queen Geraldine's grandmother. The Ramsey family came from South Carolina, whereas the Hardings' were North Carolina large land owners with Irish Heritage. Geraldine's mother, Gladys Virginia Stewart, was born on the 18th July 1891. John Stewart fell ill and died just before being appointed US Ambassador to London that same year, late 1891.
In 1902, Virginia Ramsey Harding remarried, Gustave de Strale d'Ekna, the Minister and Chamberlin of King Oscar II of Sweden. They resided in Paris, and Gustave became a father figure to Geraldine in her youth.
Gladys Virginia Stewart met her future husband and father of Queen Geraldine on the 3rd of June, 1914, in Paris. Count Gyla Apponyi was an exceptional father to Geraldine and a kindhearted man. In August 1914, Gyla acted as liaison officer within the Austrian Hungarian Army. He was hit by shrapnel and wounded while fighting in Serbia. He subsequently returned to Hungary and served in the Military Headquarters. He died from his wounds a few years later in 1924.
Geraldine and her younger sister, Virginia, and brother, Gyla, lived with their paternal grandmother, Countess Marguerite. Gladys later remarried a French Admiral, Gontran Girault, with whom she had three children, Sylviane Girault Muselier, Guy Girault and Patricia Girault.
After the death of their grandmother, their Aunt Countess Fanny Karolyi looked after Geraldine, her sister and younger brother. Countess Fanny owned the famous Zebegeny castle where Queen Geraldine used to spend her summers. Geraldine also assisted with the V E Z programs in Zebegeny during the summer, doing gardening, regular sporting activities and organizing children's theater performances.
Due to Geraldine's beauty and her naturally white skin, she soon gained the nickname "The White Rose".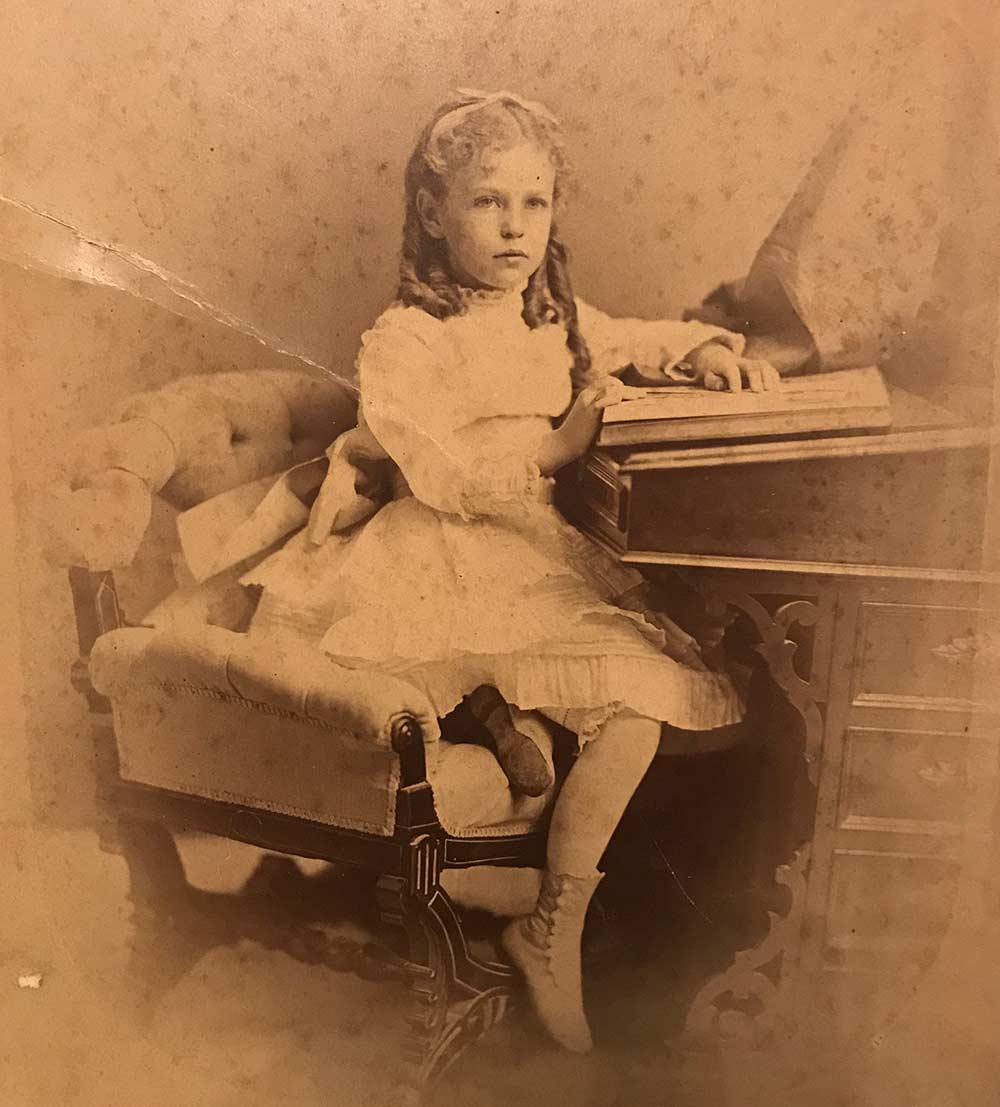 Countess Geraldine studied at an English school in Menton, France. Later, her grandparents sent her to the "Sacred Heart "college in Pressbaum, near Vienna, where she graduated in Social Sciences and Finance.
Countess Geraldine was a dedicated student and excelled in stenography, sociology, history and literature. Geraldine was also an avid reader and made good use of her family's library, which consisted of 30.000 books.
At the age of 19, Geraldine worked at the Hungarian National Museum. She had a passion for languages and spoke fluent; Albanian, French, German, Spanish, English and Hungarian. She learned Albanian within six months.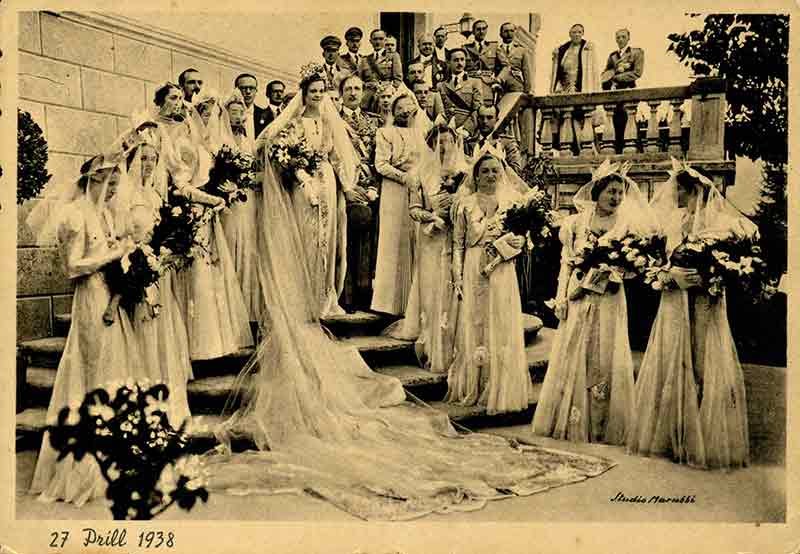 King Zog and Countess Geraldine Margit Virginia Olga Maria Apponyi de Nagy- Appony married on the 27th of April 1938, in Tirana, by a civil service. The 27th of April, being symbolic as it coincided with the wedding anniversary of Albania's national hero Skanderbeg and his bride Donika Arianiti-Muzaka, 487 years prior.
On the 26th of April, King Zog declared a wide amnesty to different category prisoners, including political assailants. The Albanian state accorded funds to pay for a 100 weddings for young couples which were held on the same day. The Royal family privately sponsored a further 50 wedding ceremonies throughout the country. The "Skenderbeg Couples" also received a gift from their Sovran. This helped unite the whole country in a joyous atmosphere of celebration.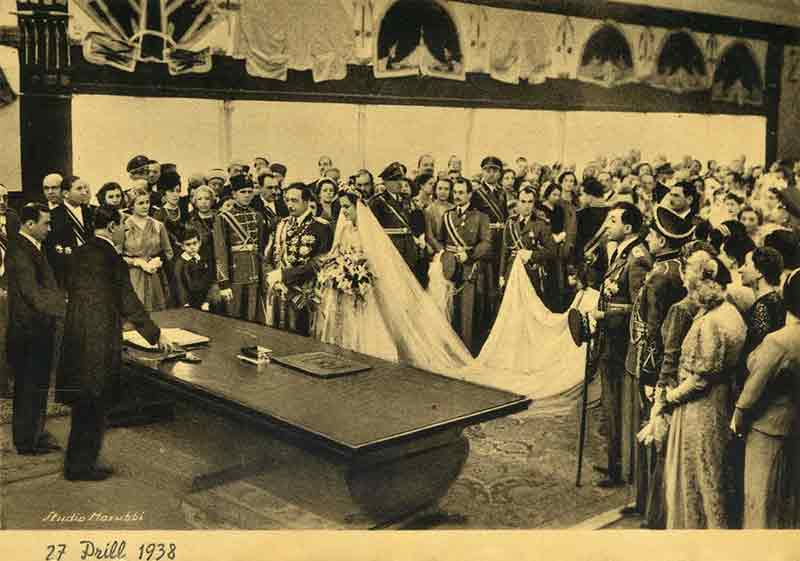 The marriage was blessed by all four official religious leaders and by special request of the Apponyi Family, the supreme pontiff; His Holiness Pope Pius XI bestowed his blessings.
On the 27th of April, Tirana was in a buzz with every hotel filled with visitors from abroad. 79 international reporters and photographers including media representatives from South Africa, Japan and Argentina, were all in attendance.
From Hungary, the Duke and Counts Esterházy and Festetich, the Apponyis, Károlyis, Szapárys, Berchtolds, and Edelsheim, the Baronial Inkeys and Urbáns had come especially for the bride and groom. Other European states were represented by the Princesses Borghese and Radziwill, the Counts Seeherr-Thoss and Trautenberg, and a great many representatives of Central European aristocracy. The Italian royal family was represented by Prince Adalberto of Savoy, the Duke of Bergamo.
The wedding was a combination of occidental and oriental styles held in the main hall of the Royal Palace in Tirana. A 101 gun salute was accompanied with cries of joy from the gathered Tirana crowds and ringing church bells.
The King's witnesses were Count Galeazzo Ciano and Zog's Turkish brother-in-law, Prince Mehmed Abid.
Representing the Queen was Count Charles Apponyi, her guardian and uncle, and Baron Frederick Vilany, Hungarian Minister to Italy.
The deputy President of Parliament, Hiqmet Delvina, united the couple by reading from the civil code. After the civil ceremony a number of events were held in Tirana and Durres in honour of the Royal Couple.
The newlyweds received a treasure-trove of wedding gifts. Admiral Horthy, Regent of Hungary, sent Geraldine a set of Hungarian porcelain for forty-eight persons that was designed by the Herend factory. Baron Villány, the Hungarian Ambassador to Rome, gave the couple a coach complete with Hungarian harnesses and two pure-bred Lipizzaner horses from the Hungarian State stud - a coachman was also included: he would remain on as a part of Geraldine's staff. The German Führer sent the couple a scarlet Mercedes-Benz 540K. The Turkish government sent twenty-four Oriental carpets. President Lebrun of France gifted a white Sèvres porcelain table-piece. Prime Minister Mussolini promised the King and Queen the extravagant gift of a yacht (which had not been constructed in time for the royal nuptials).
Queen Geraldine fully participated in further strengthening the welfare of the Albanian people, particularly those in need. Her Majesty contributed to the building of institutions such as hospitals, asylums and orphanages.
Queen Geraldine was fully committed to promote women's rights and emancipation. Her Majesty worked hard in order to support hospital services in Albania, and contributed in running the Military Hospital in Tirana. She was also instrumental in establishing the first maternity hospital. In April 1938, just one year before the Fascist invasion of Albania and the start of her eventual exile, King Zog bestowed on Queen Geraldine the Grand Cross of the Order of Fidelity.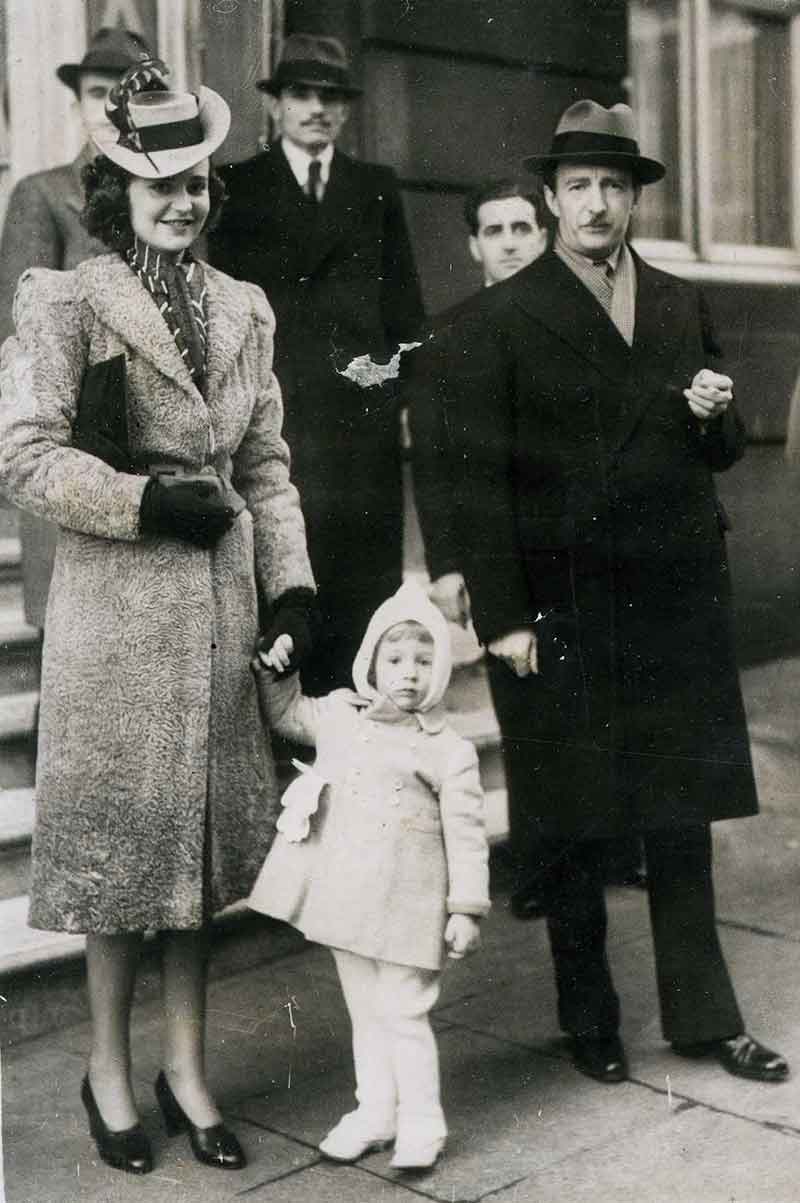 Queen Geraldine remained active during her sixty-three years in exile, maintaining strong relations with all the European Royal Houses. She served as an advisor to both her husband and son throughout the many years that they were, forced to live in Greece, Turkey, France, England, Egypt, Spain and then South Africa, before returning, finally, to Albania.
Her Majesty will always be remembered for her devotion towards her adopted Nation. Even in exile she remained active beside her son. On her final return to Albania, Queen Geraldine was greeted with much jubilation by the Albanian people, as if she had reigned in Albania her whole life. Her Majesty was held in such high regard that not even the Communist propaganda machine ever said a negative word against her.
A number of book publications and biographies have been inspired by her remarkable life. In 1986 she authorized a biography by Gwen Robynes titled "Geraldine of the Albanians" and later a biography written by Josephine Dedet titled, "Geraldine, Queen of the Albanians". Both books are a treasure trove of information about Queen Geraldine's inspiring life.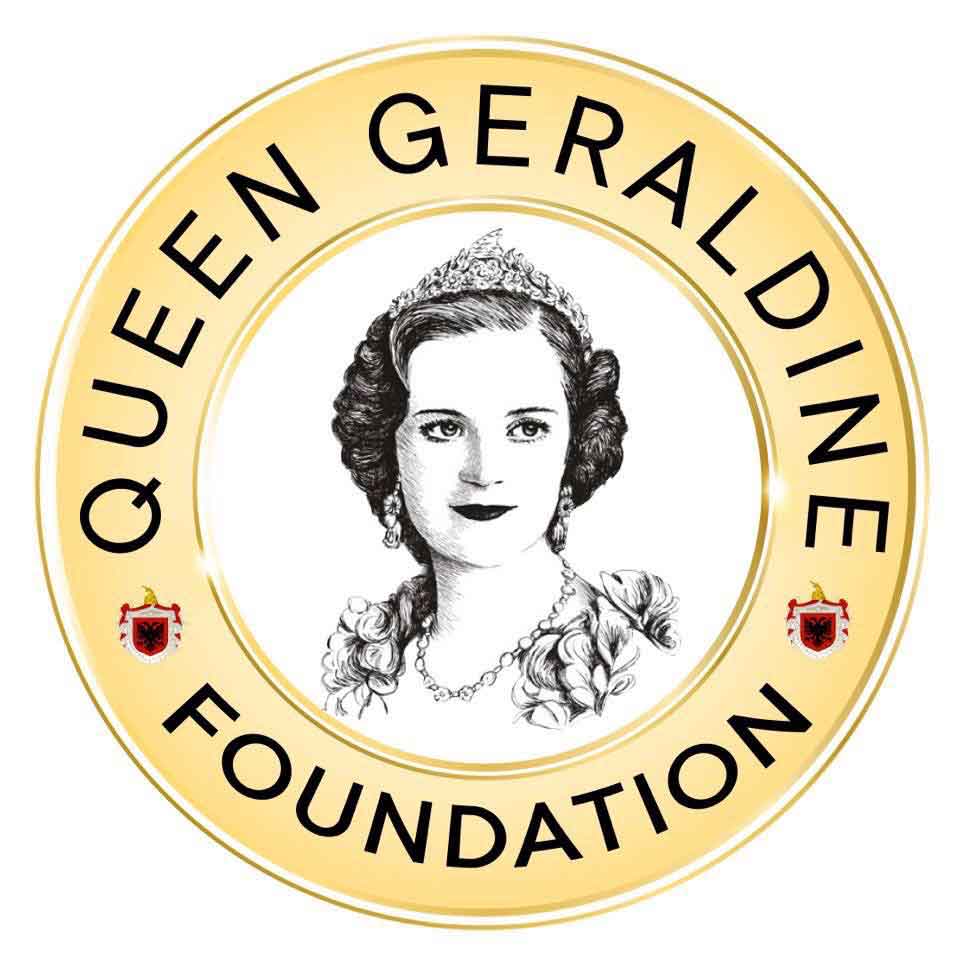 In honor of Queen Geraldine's legacy, in April 2004 the President of the Republic of Albania posthumously bestowed on Queen Geraldine the Mother Teresa Medal. In 2014, Crown Princess Elia of the Albanians named the "Queen Geraldine Foundation" in her memory.
In June 2002, by invitation of the Albanian Parliament, Geraldine and the Royal Family returned from South Africa to live in Albania. Queen Geraldine died five months later, at the age of 87, at the Albanian military hospital in Tirana. After being admitted for treatment for lung disease, she suffered three heart attacks, the last of which was fatal, on 22 October 2002. Her funeral was held on 26 October 2002 at the Central House of the Army, and a funeral oration at St Paul's Cathedral. Queen Geraldine was interred in the public cemetery of Sharra, in the "VIP plot". She was later reburied within the Royal Mausoleum in Tirana, (2012).
40 Historical dates of the Royal family and King Zog
<! ========= Cool Timeline Free 2.0.6 =========>